The Calvert County Central Republican Committee named Chair of the McCabe Memorial Leadership Fund --
QUINCY RODGERS -- their man of the year!!!  Quincy, along with his wife Pam, was thoroughly surprised at this recognition at the annual Lincoln Reagan Dinner held in Huntingtown MD on October 5.  The McCabe Fund Board Members joined Quincy in their delight at this honor.  Congratultions Chair Rodgers!
Frank McCabe Memorial Leadership Fund Application 
State and Local County Elections Coming 2022
The application process is open for interested persons or organizations to apply for grant funds. These funds are available to help Republican candidates, campaigns and groups to be better prepared to become a candidate, campaign manager, treasurer, etc. Funds might be available for training seminars, campaign schools, etc. Checks will be sent directly to the group administering the training.
In the Metropolitan region, there are four available training areas. There may be more and applicants may certainly research and find other sites. Here is a brief synopsis of locations offering classes: 
Leadership Institute (LI) is located in Arlington, VA. (www.leadershipinstitute.org) They list their training and class schedules, locations, and fees on their website.

The Republican National Committee is located in Washington, DC (www.gop.com).  They hold very comprehensive Campaign Finance and Campaign Management Training. The Campaign Finance helps with finances, donors, legal compliance, telemarketing and more.

The National Federation of Republican Women (NFRW) is located in Alexandria, VA. (www.nfrw.org) 

The MD Republican Party is located in Annapolis, MD (www.mdgop.org) and hold training classes. Check their site for schedule.
This is just a sampling of available resources in the area. Many of these groups will come to a location and conduct a class if there are enough persons interested. Consider holding a class with five interested parties and submit your application for a grant. Political organizations are eligible for grants.
Applications are available on www.mccabeleadershipfund.com Please complete an application and mail to:
Frank McCabe Memorial Leadership Fund Grant Committee
P.O. Box 985
Chesapeake Beach, MD 20732
info:  mccabeleadershipfund@gmail.com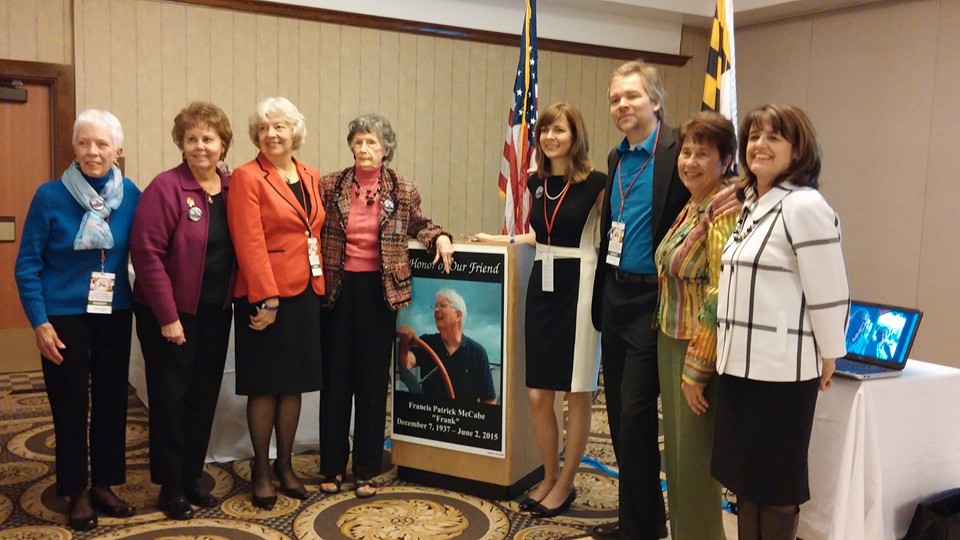 Pictured from left to right: Linda Woods, Judy MacWilliams, Nancy McCabe, Nell Bowen, Kelly McCabe, Tom McCabe, Ella Ennis, Carolyn Rice
The Maryland Republican Party honored and celebrated the life of Frank McCabe on Saturday, November 21, at the closing reception of the fall MD GOP Convention in Solomons. Family and friends of Frank, who lost his battle with cancer this past June, came together to remember and announce the FRANK MCCABE MEMORIAL LEADERSHIP FUND.
This Fund will help Republican candidates and campaign staff around the State of Maryland with scholarship monies to attend classes, workshops, hold seminars, etc. Applications are found on this website. Details of eligibility are found on the application.
A well attended reception hosted by the Fund Committee and the MD GOP offered remarks on Frank's life, beginning with MD GOP Chairman Diana Waterman who recalled Frank's help many times. Delegate Tony O'Donnell related how Frank and Nancy McCabe offered their help to him in the early 90s when he first decided to run for the Delegate seat in Southern MD. He gave many examples of Frank's accomplishments for the Party.
Nancy McCabe graciously told the story of Frank's interest in the political scene in Virginia and later in Maryland and how he changed the landscape of the political parties in both areas. Both Tom and Kelly, the McCabe children, spoke lovingly of their father.
Judy MacWilliams introduced the Fund Committee and offered remarks on the estabishment and background including the introduction of Nell Bowen, the generous benefactor of the Fund who has offered a matching fund requirement. Judy explained that application process that will begin in the summer of 2016 with funds being granted in the fall of 2016.
At the Reception, Calvert County Central Committee Chairman Greg Ostrander also gave remarks on Frank's legacy and presented a check in the amount of $500 to the fund in memory of Frank on behalf of the Central Committee.
Contributions are welcome and encouraged. No amount is too small. Checks may be mailed to the:
McCabe Leadership Fund P.O. Box 985 Chesapeake Beach, MD 20732